Dumpster Diving: Historical Memory and Quantum Physics at Yale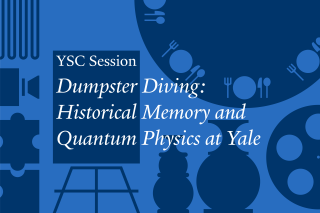 Did you know Badger, the dilution refrigerator which hosted the world's first demonstration of two-qubit algorithms with a superconducting quantum processor in 2009, is here at Yale? As technology goes from Research & Development to mass production, how do we preserve the historical memory and ephemera once the innovator moves on: the researcher graduates, changes institutions, or retires, and the delocalization of the industry?
Join Florian Carle, manager at Yale Quantum Institute (YQI) and inaugural YQI Artist in Residence Martha W. Lewis in this Session to discuss the best practices in conservation, archiving, and exhibiting the history and advancements of technology. Everyone is welcome, from Artists, digital humanists, archivists, conservationists, historians to scientists, to brainstorm how one removes themselves and their biases from record keeping.
Lead Sessionists
Florian Carle is the manager of the Yale Quantum Institute. French rocket scientist with a theater background turned quantum science manager, he develops science outreach programing for the Yale and New Haven community to demystify quantum physic and science in general, and to make it fun, in the hope to encourage new generations of students to consider a career in STEM. Florian is the creator and producer of the YQI Artist in Residence program and draws from his theater background to help create installations and exhibitions, live shows, album, and music videos. 
Martha W. Lewis is a New Haven-based visual artist, curator, educator, and radio presenter who has exhibited nationally and internationally. Her artistic practice focuses on drawing, Site-Specific Installation, books, knowledge, and the history of science. Martha was the inaugural artist to join the Yale Quantum Institute in 2017. She created "I'll be your qubit", an interactive, immersive installation based on the work of quantum researchers at YQI. She continues her collaboration with YQI and will show her work at the New Haven Museum in the exhibition "The Quantum Revolution: Handcrafted in New Haven" showing from April to September 2022.
Format
This Session will take place in-person and is open to asymptomatic vaccinated and boosted participants only. Please bring your COVID 19 vaccination card or a clearly legible photo of your vaccination card on your phone and a photo ID. Front of House staff will be checking IDs and proof of vaccination.
About YSC Sessions
YSC Sessions invite you into conversation with thought leaders in creative fields — bringing people into dialogue and inspiring fresh ideas over a meal.
On Confidentiality
Sessions are safe spaces to gather and exchange diverse perspectives over shared interests. We ask everyone to respect the confidentiality of the conversation and fellow Sessionists. For press requests related to YSC Sessions, please contact Director of Marketing & Communications Maurice Harris at maurice.harris@yale.edu.