Transpositions, Pt. 5: Aki Sasamoto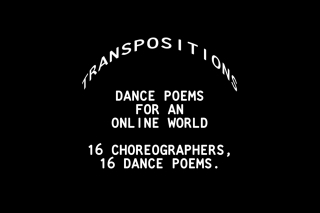 Witness what happens when Yale Dance Lab in partnership with the Yale Schwarzman Center invites 16 choreographers to create digital dance poems, performed by dancers from across the Yale community. Knitting together local, national, and international communities of dance, Transpositions: Dance Poems for an Online World explores the continuous and interrupted transmission of embodied dance practices in digital life. Edited by Kyla Arsadjaja MFA '20 and with sound design by Noel Nichols MFA '21, the concept and direction of this episode is by Aki Sasamoto.
Next, watch an interview with dancers from the episode.
Aki Sasamoto works in sculpture, performance, video, and more. In her installation/performance works, Aki moves and talks inside the careful arrangements of sculpturally altered objects. Her works appear in galleries, theaters, and odd sites. Shown at SculptureCenter, the Kitchen, Chocolate Factory Theater, Whitney Biennial 2010, MOMA-PS1, New York; National Museum of Art-Osaka, Yokohama Triennale 2008, Japan; Gwangju Biennial 2012, South Korea; Shanghai Biennale 2016, China; Kochi-Muziris Biennale 2016, India. 
Transpositions choreographers are drawn from Yale faculty, New Haven, Philadelphia, New York, Burkina Faso, and South Africa. Transpositions is sponsored by Dance Studies and Theater and Performance Studies with support from the Wallace Fund for Dance and the Yale Schwarzman Center.