AREAS: Augmented Reality Experience At Schwarzman, Ep. 1 - The Dome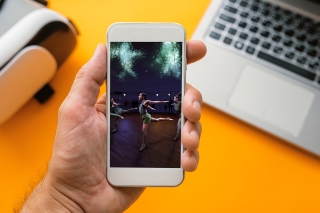 The best opportunity to experience Yale Schwarzman Center (YSC) prior to its 2021 opening is here!
YSC and the Center for Collaborative Arts and Media (CCAM) Project Fellowship are pleased to announce the first episode of Augmented Reality Experience at Schwarzman (AREAS). Featuring works by the Yale Interactive Machines Group, ¡Oye! Spoken Word and Yale Danceworks, audiences are invited to take a multisensory journey through the newly renovated Dome. To fully enjoy this program, download the AREAS app from the Apple App Store or Google Play app store.
Non-interactive, 2D video renderings of the episode with closed captions and audio descriptions are also available:
About AREAS
AREAS is on an immersive, virtual journey that animates the dynamic spaces of YSC through student-led and produced art, music, dance, architecture, and performance. Take a 360-degree exploration of the refurbished Dome, the newly-minted Underground, and the unmissable heart of campus, Commons. Look for scannable AREAS posters around campus and in New Haven's downtown, Westville, East Rock, and Hill communities. Three episodes of AREAS will be released through fall 2021, offering multiple chances to experience, meet, collaborate, and eat—virtually.
AREAS is designed by the Yale Student Immersive Media collective—an initiative founded in 2019 by students in the Arts, Computer Science and Computing and the Arts disciplines with support from CCAM's Blended Reality program , which aims to blur the lines between the physical and digital worlds, "easing the transition of an idea from imagination, to design, to realization." Read more about AREAS in Yale Daily News.
Featured image: "Mock up smartphone screen" displaying artist's rendering of the Dance Studio features the Yale Dance Lab's spring 2019 re-staging of choreographer Bill T. Jones's seminal work, "D-Man in the Waters" (1989). Performance undertaken in coordination with the Bill T. Jones/Arnie Zane Company. Original photography by Michael Marsland.