Mr. SOUL! (Watch Party & Discussion)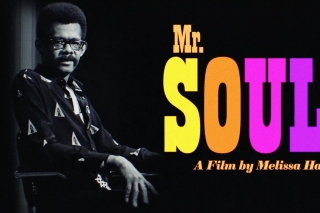 Before Oprah, before Arsenio, there was Mr. SOUL! 
On March 25, join the Afro-American Cultural Center and YSC for a screening of the award-winning documentary followed by a discussion with writer/director and former New Haven resident Melissa Haizlip and Yale Professors Thomas Allen Harris and Daphne A. Brooks. The topic will be "Making the Archive Public: Radical History in Public Television." 
From 1968 to 1973, the public television variety show SOUL!, guided by the enigmatic producer and host Ellis Haizlip, offered an unfiltered, uncompromising celebration of Black literature, poetry, music, and politics—voices that had few other options for national exposure, and, as a result, found the program an improbable place to call home.
The series was among the first to provide expanded images of African Americans on television, shifting the gaze from inner-city poverty and violence to the vibrancy of the Black Arts Movement. With participants' recollections and illuminating archival clips, Mr. SOUL! captures a critical moment in culture whose impact continues to resonate, and an unsung hero whose voice we need now more than ever to restore the SOUL of a nation. 
MELISSA HAIZLIP (Producer | Director | Writer) is an award-winning filmmaker based in New York. Her work responds to pressing social issues at the intersection of racial justice, social justice, activism, and representation. Her goal is to advocate and amplify the voices of women and people of color. Melissa's feature documentary, Mr. SOUL! has been nominated for three NAACP Image Awards. The film won the 2020 Critics Choice Documentary Award for Best First Documentary Feature. Mr. SOUL! received 32 nominations and won 19 awards, including 14 film festival awards. Melissa went to Yale University. She's currently co-executive producing a docuseries on women in hip-hop for Netflix. Read Melissa's complete bio.